Shine On
Do you ride in the day or in the night? Would you ride in the pouring rain or under the blazing sun? When it comes to cycling, everyone has their own rhythm and goals. There is no magic hour, it's up to you to decide when it's your time to shine. The best time to ride is really whenever you like it.
This artwork features a cyclist and the cyclist's shadow or reflection on the road, forming a mirror image. With no right side up, the cyclist could be riding when it's dark or when it's light. You can hang it either way. Why not let it reflect your riding preference?
To add a touch of shine, the artwork is printed in Pantone metallic silver and gold ink.
The first 100 copies have been sold out.
Due to popular requests, limited copies of Artist's Proofs are released for Design #49 - SHINE ON
What is an Artist Proof?
Artist's Proofs are additional prints not included in, but of the same quality as, the regular limited edition. In the early days of printing, Artist's Proofs were the first prints pulled off the plate or stone, which was drawn or etched on by the artist to create the image on the print. As more prints were pulled off the plate, the plate wore down, thus the Artist's Proofs were the sharpest and had the best colors of the entire print run. With today's modern printing technology, the lithograph prints in the production run are nearly identical. Artist's Proofs usually number 10% - 20% of the limited edition size, with the normal range being 50 to 200 prints. Artist's proofs are not included in the count of a limited edition, and sometimes the number of artist's proofs, which belong to the artist, can be surprisingly high at twenty or more. Because of their low number, Artist's Proofs are slightly more expensive than the regular limited edition. When the limited edition lithograph prints have sold out and are available only through a secondary market, the Artist's Proofs should go up in value at a higher percentage rate than the limited edition prints. Artist's Proofs are signed A.P., A/P, or Artist's Proof. They may or may not be numbered.
For more info about Artist's Proof from Wikipedia, please CLICK HERE
Date of release: May 2022
Sheet size: 840mm X 594mm (33 inch X 24 inch)
Print Quality: Offset Lithographic Printing using 2 special Pantone Metallic Colours (Gold and Silver) and 1 Pantone Black to ensure colour accuracy and a high-quality print. Printed on 252gsm Exel Satin paper. Suitable for archival use.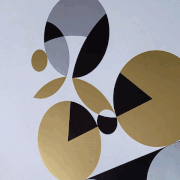 *Product colours may slightly vary due to different monitor settings.
All of the products you see here are limited to, as the name suggests, 100 copies. Each piece of work will be watermarked, labeled with the title and Artist's Proof. As such, no two copies are ever completely identical.
Delivery & Shipping (Worldwide)
Your poster will be packed in a Hard Tube and delivered by Singapore Post. On confirmation and dispatch of your order, you will be provided with a tracking number. You can expect your poster in a maximum of 21 working days after confirmation of your payment by email.