What started out as a collaborative project with LifeCycle has ended up winning 4 gold, 4 silver and 2 bronze award at the Cannes Lions International Festival of Creativity and Spikes Asia Creative Awards. 3 Wood Pencils in the D&AD (British Design & Art Direction)
Back by popular requests, LifeCycle series (Cityscape, Terrain & Road Map) is back with its 2nd edition (Final Edition Set). Limited edition sets of 100 are made available for sale only.
5 sets remaining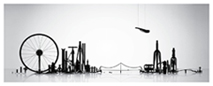 Cityscape
You live in a little box.
You get into a little box that drives you to another little box.
And you spend your day thinking little boxed thoughts in your little box.
Till it's time to leave for the other little box.
Unbox yourself.
Get a life. Get a cycle.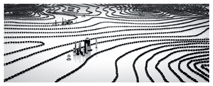 Terrain
Intrepid explorer
journeying to the Elevator,
bravely navigating past Office Politics,
catching your breath at Cape Watercooler before you venture to the unknown land they call the Pantry.
Step out.
Get a life. Get a cycle.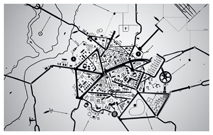 Road Map
Look out the window.
What do you see?
Wait, there's no window.
Only a wall.
And fake plastic flowers.
And a fake parquet floor.
A plastic coffee cup on a formica table.
Artificial lighting, on all day.
Get out. Get a life. Get a cycle.
Date of release: September 2014
Cityscape & Terrain
Sheet size: 840mm X 335m (33 inch X 13.25 Inch)
Road Map
Sheet size: 840mm X 530m (33 inch X 21 Inch)
Print Quality: 4 colours Offset Lithographic Printing with matt varnish to achieve better black and white contrast for the output image. Printed on Exel Satin 252gsm paper. Suitable for archival use.
All of the products you see here are limited to, as the name suggests, 100 copies. Each piece of work will be watermarked, labeled with the title and edition set number. As such, no two copies are ever completely identical.
Delivery & Shipping (Worldwide)
Your posters will be packed in a Hard Tube and delivered by Singapore Post. On confirmation and dispatch of your order, you will be provided with a tracking number. You can expect your poster in maximum 21 workings days after confirmation of your payment by email.